Blog - Top 5 Tips To Winterize Your Garage Door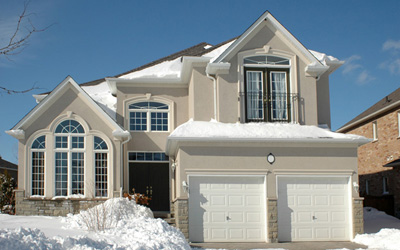 Are you worried about the degrading performance of your overhead door especially in the winter months? If yes, the best choice is to winterize your door to make it overcome the cold weather challenges. Since garage door is one of the largest moving doors in your home, it is crucial to maintain it on periodic intervals to ensure a smooth opening and closing mechanism.If you are planning to winterize your steel or aluminum garage door, here are a few tips you should follow:
Look and Listen
Observe your overhead door while it is in action. Look for any jerks, if they exist, get them repaired by a technician. Listen carefully for any unusual noise, such as screeching or scrapping one. Its advised to monitor your door performance almost every month to identify the potential damages.
Tighten up the Hardware
An average garage door moves up and down at least twice or thrice a day. Since a door is heavy, it operates with a lot of vibration and movement which tends to loosen the hardware components. To prevent a falling door, it is advised to tighten up the nuts, bolts and other door hardware.
Inspect the Rollers
Rollers allow the door movement on the tracks and need to be inspected at least twice a year. No matter, how durable built the rollers are, they get worn-out frequently. To ensure a smooth door performance, it is advised to get the rollers inspected and replaced every six months depending on the usage.
Lubricate the Moving Parts
Every automatic garage door is made up of varying elements that allows it to operate smoothly. To ensure a seamless door operation, it is advised to lubricate all the moving components of a door quite frequently.
Test the Door Balance
An improperly balanced garage door is prone to fall anytime. Since a door is quite heavy, it is recommended to test the photo-eye mechanism and door balance more often so that it doesn't stick up in the midway. If you notice any signs of imbalance, call a garage door repair expert right away.
So, these are some common ways to winterize your overhead door ahead of the winters. If you are looking for a full-service garage door company in Richmond Hill, feel free to contact our licensed technicians at York Garage Doors.