Page - Garage Door Cable Repair & Replacement Service in Richmond Hill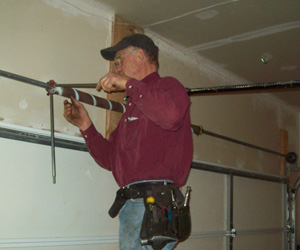 A garage door is fabricated using various different components. While every component has its own importance, the cables help the door operate smoothly. Over time, they tend to show the signs of damage and it's the time when you need to replace your door's cable. If you are looking for a quick and professional garage door cable replacement service in Richmond Hill, then look no further than York Garage Doors.
At York Garage Doors, we have a team of licensed, insured and experienced technicians committed to providing reliable and cost-effective solutions. We operate 24 hours a day and seven days a week. So feel free to get in touch with us anytime. Remember, cables are designed to support the heavy weight of the door. They keep the door from falling upon you and your belongings. So, it is vital to get your cables inspected twice a year and replace them if required.
Common Garage Door Cable Problems
Garage doors are equipped with extension springs. When the springs break, the pressure on the door increases, which can lead to serious injuries. This increased force can even damage your vehicle. In order to prevent any accident from happening, the garage door cables are attached to the door. The cables are meant to provide safety in case the springs break down.
We are your local garage door cable experts
At York Garage Doors, our professionals are well versed with the mechanism of the cables and what it takes to keep them moving. If you find your door cables broken or damaged, immediately call our technicians for garage door cable replacement services. We have the right tools and equipments required to perform the task in a timely and safe manner.
Why Is It Important to Seek Professional Replacement?
Our technicians are skilled to handle both residential and commercial garage door cables. They are efficient and perform every task with precision. We understand that a malfunctioning door can be extremely dangerous, that's why, we are available 24/7 at your service. We adhere to the highest standards of safety. Our years of experience, quality workmanship and excellent customer service all combine to deliver the kind of services that our customers deserve.
Call us TODAY to schedule garage door cable replacement service appointment in Richmond Hill.