Page - Garage Door Spring Repair & Replacement in Richmond Hill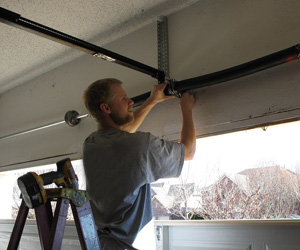 York Garage Doors provides professional and reliable garage door spring repair and replacement service in Richmond Hill. Our experienced professionals are competent to repair or replace both extension and torsion springs. Garage door springs work under a lot of pressure and can cause a serious damage if not addressed timely. So, it is advised to visually inspect your garage door springs on a regular basis. If you find any spring damaged or worn out, call our professionals immediately to fix the issue safely.
NEVER try to repair or replace the springs on your own. Spring replacement requires special techniques, equipments and in-depth knowledge. So, it is good to leave the job to the professionals as they know how to accomplish it in a timely and efficient manner.
How To Know If Your Garage Door Spring Needs Repair Or Replacement
Garage door won't open properly or only opens halfway.
Your garage door makes loud strange noise while opening.
Your garage door springs have not been replaced for the least 5 years.
You can visually inspect your door springs for any damage.
What Happens When Your Garage Door Spring Suddenly Breaks?
Damaged garage door springs pose serious threat to your safety and security. It is vital to maintain the pristine condition of the springs for the normal operation of the door. If your door doesn't open at all or opens halfway, there are chances that there is something wrong with the springs. In such situation, you are not able to use your garage and this disrupts your entire schedule. Thus, it is good to keep our contact details handy. Our technicians will reach you and prevent the issue in less possible time.
Why Choose Us?
At York Garage Doors, our professionals know how to do the job right the first time. When you call us, you will receive high quality solutions. We are dedicated to keeping your garage, home, family and valuables safe and secure. We understand that need for garage door spring replacement service in Richmond Hill can arise anytime. That's why, we offer 24 hours a day and seven days a week service to both our residential and commercial clients.
Our Features:
Licensed, Insured & Bonded
24 Hours A Day & Seven Days A Week Service
Extension Spring Replacement
Torsion Spring Replacement
Experienced & Trained Staff
Same Day Service
Fair & Upfront Price
Maintenance Programs
Call Us TODAY To Schedule Garage Door Spring Replacement Appointment. We Are Your Local Garage Door Spring Experts.