Page - High Quality Garage Door Parts Replacement in Richmond Hill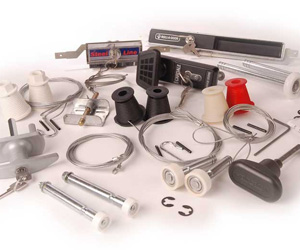 York Garage Doors stocks a wide range of garage door parts that are required during emergency repairs and regular maintenance. If you want to perform some minor repairs on your own and looking for genuine garage door parts, then come to us. Our large inventory holds a variety of genuine and branded door parts that will keep your door running reliably for years. You can call our professionals to gain knowledge about a particular part. We would be glad to provide you information about the various garage door parts and their mechanism.
We are not limited to garage door parts sale, rather also install them. Our garage door technicians make sure to install each and every part with utmost precision. We have been doing garage door service for the past many years. Thus, we know how to maintain the optimal condition of a door. We believe that quality parts and proper installation is the key to keep your door operational.
We carry a wide assortment of garage door parts including:
New Cables
Rollers
Hinges
Bottom Fixtures
Struts
Locks
Slats
Keypads
Remotes
Photo Eyes
Trolley's
Gears
Boards
Tracks
Sections
Seals
Bumpers
Couplings
Drums
Springs
Bearing Plates
Shafts
And More …
What Can We Do For You?
York Garage Doors is Richmond Hill's most trusted garage door company. We are dedicated to providing our customers with genuine garage door parts, along with quality service. Our technicians are available at your service 24 hours a day and seven days a week. A smile on the faces of our clients made our day. Your satisfaction is our topmost priority. That's why, we keep on advancing our services by utilizing state-of-the-art products and solutions. We really appreciate the trust you place on us and can go the extra miles to provide you exceptional customer service.
Our technicians offer preventative maintenance services that will help you avoid the hassles of frequent repairs. We will assess the potential damage and fix them at the earliest stage. We use only high quality garage door parts in Richmond Hill so that you can cherish the convenience of your garage door for years to come.
Call our professionals if you are looking for a particular garage door part in Richmond Hill.