Blog - How To Choose The Best Commercial Garage Door For Your Business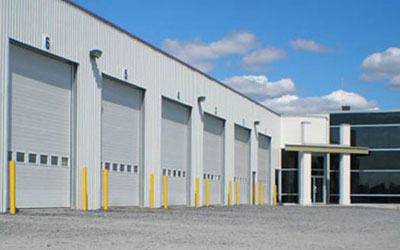 Choosing the right commercial garage door is not as simple as you think. When you are thinking about to buy a new door for your business, there are various factors that play games in your mind. An overhead door is one of the biggest aspect of your commercial property that provide safety for your business. That's why these doors are specially designed to be hard enough for the everyday operations.
Before buying a commercial door, you should make your choice with safety, security and also cost in mind. These doors come with a garage door opener and these doors are much heavier as compared to the residential doors. Here are some essential tips that help you choose the best suited overhead door for your business.
Style: As you know garage doors come in various styles. It is very easy to choose the door as per your business architecture and locality. You want to be make sure that you choose the right garage door that complement the style of your business premises. Keep one thing in your mind that there are different styles of overhead doors available that are customized with windows and decorative items.
Door size: Generally overhead doors are available in the standard sizes. The size of the door is depending on the size of your vehicle that make deliveries to your business. Determine how many vehicles you want to fit at once.
Material: Just like door style and size, the doors are available in a variety of materials. Steel, wood, vinyl, aluminum, and fiberglass are some popular garage door materials. You can choose any one from aluminum to fiberglass, to vinyl and steel. Steel and wooden are the most popular and the best option for your premises. When choosing the material, remember that how long the door will last depends a lot on the material.
Choosing the right door: Picking the right door depends on the how you want the overhead door to function. You can pick the fully automatic door or standard door. Different types of doors including panel lift door, roller door, and roller shutters. You can also add windows to the door to enhance the curb appeal.
Style: These are two main factors that you need to consider. Whether you are a business owner or a home owner, everyone should take security seriously when it comes to installing a new garage door. As a business owner, you need to buy a door strong enough to deter and keep thieves from breaking in.
Buy a stylish and highest quality door that you and your business premises deserve. Never compromise with the security of your business. Pick the right one that enhance the value of your business property and avoid pricey issues. Whether you want a new overhead door for your home or business, call a York Garage Doors. We will help you to choose the right door.