Blog - 4 Common Types Of Garage Doors To Choose From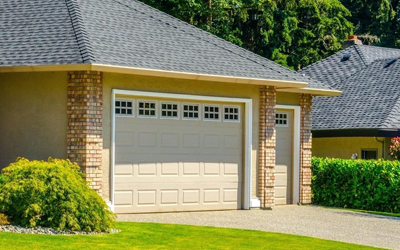 If you are planning to install a new garage door, we know how confused you might be feeling with different types of overhead door styles and types available in the market. When it comes to choosing the right door for your residential or commercial premise, a lot of things needs to be considered such as material, style, type, color, and mode of operation.
Garage doors are available in various materials and each of them has their own advantages and disadvantages. To help you make a better choice, here are some door types you can consider going with based on your needs:
Steel Garage Doors- For those looking for a sturdy door that requires low maintenance and do not degrade in bad weather, investing in a steel door is the best choice. This door is easily available and can be painted with any color that complements your exterior appeal.
Aluminum Garage Doors- These overhead doors are an affordable option for those who want to invest a little amount or need an affordable door. Aluminum doors tend to stay in shape for years to come depending on the usage. Most of them are lightweight and are available in varying colors. They don't rust and require less maintenance.
Wooden Garage Doors- One of the costly garage doors available in the market are the wood ones that not only offer luxurious looks but also adds value to the property. This material acts as a natural insulator and adds a sense of insulation to your garage.
Fibreglass Doors- When painted brown, fibreglass overhead doors gives the same feel and looks as that of wood or faux wood ones. This lightweight door can be customized in any form and is more durable compared to steel and aluminum material.
So, these were some overhead door types based on the material they are manufactured from. If you are looking for a modern style door for your home or office garage, contact our team at York Garage Doors right away.