Blog - 3 Common Garage Door Materials & Their Usage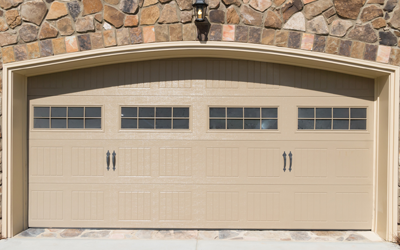 Garage doors often come in a variety of shapes and material. A homeowner can ideally choose one depending upon his budget and needs. These large doors not only provide security but also enhances the curb appeal of a property. The variety of durable materials used in the construction of overhead doors has their own benefits and disadvantages. They are designed specifically for individual door needs.
Some common door materials and their uses:
Metal Doors: Metal doors, such as steel and aluminum are quite durable and strong due to their metallic properties. They are less prone to cracks, damages, and dents. Moreover, these doors are inexpensive and affordable which makes them the most popular choice among homeowners.
Metal garage doors generally last longer due to their ability to absorb weather and physical damages. To make sure they work effectively, it is important to lubricate and maintain them regularly. In order to prevent door falling accidents, hire garage door installers for efficient overhead door installation.
Vinyl & Fiberglass Doors: Vinyl and fiberglass doors are comparatively better than metal doors due to their energy efficiency properties. They tend to remain in their shape for years to come but are less likely to bear impacts like bumping your vehicle on the panels and others.
Vinyl doors look beautiful while the fiberglass ones look alike wooden doors. This ultimately improves the curb appeal of your property along with improving its resale value. These lightweight garage doors are relatively inexpensive and a great choice for individuals who are concerned about the beauty of their property.
Wood & Timber Doors: If you are planning to install a luxurious door, then you should opt for wood or timber material. They are the expensive materials that can make your property stand out. Wood and composite materials can readily match any overall building style and color.
Though these doors offer a great number of benefits, they typically require more care and professional maintenance to stay in shape. They need to be painted and coated every other year along with applying an anti-rotting treatment.
These are some of the common garage door materials along with their basic uses. If you are looking to install or replace your existing overhead door with a new one, consider hiring our garage door installation experts at York Garage Doors in Richmond Hill.